Despite the rapid development of alternative energy in Ukraine, the vast majority of the inhabitants are not even aware of the existence of our own production of photovoltaics in our country. However, such enterprises exist, and the products of some of them are in demand even abroad. In this article, we will talk about six Ukrainian plants that use their own technologies for the production of solar panels and related equipment.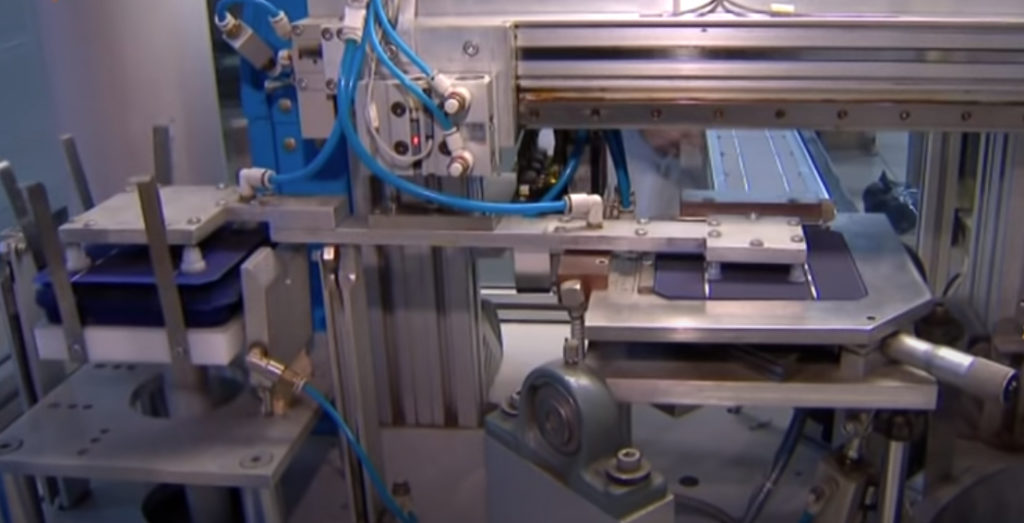 Promsvyaz (Odessa)
Average annual volumes: 7 MW.
Products: Rigid polycrystalline and flexible low power thin film silicon panels.
Share of domestic component parts: 80%.
Features: silicon crystals are grown by Odessans on their own, and their quality is very high.
Sales market: mainly domestic. The main demand exists for flexible batteries for tourism, as well as for raw materials – pure crystalline silicon.
"Clean Energy Technologies" (Alexandria)
Average annual volumes: 40 MW.
Products: 3rd generation organic thin film batteries.
Share of domestic component parts: 50%.
Features: The efficiency of the Clean Energy Technologies panels is low and amounts to 5-6%. However, these products are very cheap and environmentally friendly.
Sales market: Ukraine. A rather significant backlog of orders is due to low prices and a wide range of applications for ultralight and flexible photovoltaic thin films.
Enkhol (Energodar)
Average annual volumes: 10-15 MW.
Products: photovoltaic batteries under the ENHOL Energodar brand, modules of two series – 260 and 275 W.
Share of domestic component parts: over 50%.
Features: The products are based on high-quality polycrystalline silicon solar cells from China. There is also a protective film coating. Other components and peripherals are manufactured on our own lines. Ukrainian assembly allows you to compete with imported models due to low prices and a standard 25-year warranty. Cell degradation during this period is no more than 20%.
Sales market: Domestic.
"Prologue Semikor" (Kyiv)
Average annual volumes: 10 MW – solar batteries, 200 tons – silicon ingots, 500,000 pcs. – silicon cells.
Products:
photovoltaic panels with a wide range of power from 10 to 300W;
pure silicon in grown blanks (Æ 2.0 – 8.5 inches);
sliced and processed Poli-Si, Mono-Si plates of the same diameter, including cleaning not only to solar, but also to electronic quality;
other equipment for photovoltaics and microelectronics.
Share of domestic component parts: over 80%.
Features: The products of Prolog Semikor LLC are of very high quality and are certified according to the international standard ISO 9001:2015 . In Ukraine, silicon raw materials are in the greatest demand, while abroad – optics and protective glasses. The company is a member of the well-known international association SEMI (manufacturers of semiconductor elements).
Sales market: Domestic and world.
PJSC "KVAZAR" (Kyiv)
Average annual volumes: not published in the public domain.
Products:
hundreds of models of solar batteries in the power range from 1 to 200W;
auxiliary equipment.
Share of domestic component parts: 100%.
Features: the only enterprise not only in Ukraine, but throughout Eastern Europe that produces photovoltaics exclusively on its own raw materials and element base. In the production of autonomous portable mini solar power plants, it successfully competes with China. The entire model range of Kvazar batteries is distinguished by reliability, convenient design and a wide range of peripherals for portable (camping or tourist) modules. Especially – for charging phones, tablets and other non-resource-intensive electronic equipment.
Higher power panels are characterized by a level of quality that is in no way inferior to that of the world leaders from the TIER-1 rating.
Sales market: Domestic and global. The most in demand are:
a series of models of mobile assemblies with a power of 5 – 50 watts. With no built-in batteries and bezel-less technology, these foldable batteries are ultralight, compact and high performance.
portable stations KV-160M. Active sales on the Ukrainian and foreign markets of this model provided a number of important technological solutions of Kyiv specialists. Among them – 100% protection from dust and moisture (the level of international protection classification IP-68), the presence of 10 adapters and the ability to generate up to 1.6 kW of energy per day.
KNESS PV (Vinnytsia)
Average annual volumes: 200 MW (with the prospect of reaching 400 MW).
Products: a full range of equipment for the installation of turnkey solar power plants – from solar panels, inverters and batteries to monitoring systems and supporting structures.
The maximum demand is observed on the panel KNESS SNRG-385-FR-72 (efficiency 21.5%, average selling price 4000 – 4050 hryvnia). For comparison, the closest cost analogue RSM144-6-385M from the Chinese giant RISEN from the TIER-1 rating has an efficiency of only 19.3%.
Share of domestic component parts: 40%.
Features: the largest full-cycle enterprise in Ukraine. In terms of production – a real giant, even by European standards. The plant occupies 6600 m2 in the industrial zone of Vinnitsa. The KNESS Group itself is also the largest domestic PV contractor – they have built and launched 47 SPPs with a total capacity of more than 500 MW (only DTEK has more).
Conveyor line and element base – from BoostSolar (PRC). The average daily production of panels is 600 pieces (production is carried out around the clock, in 3 shifts). The quality of the modules is very high, the range includes batteries with a capacity of 270 – 385 W.
Sales market: Ukraine (in particular, the largest in Europe Nikopol SES), Europe, USA.