The ideas of Elon Musk and his "solar tiles" quickly found followers around the world. One of the companies that brought to life a similar technology was the British Roof Tiles Technology Ltd. Its BiSolar ceramic roof tiles with integrated solar cells have a power density of 175 W/m 2 and show an efficiency of 17.5% under ideal conditions.
Antonio Lazzoni, CEO and founder of Roof Tiles Technology, claims that the cost of installing his system is only 25-30% more expensive than a classic tile roof. This allows home owners to quickly recoup their additional investment in solar shingles and then enjoy clean, free electricity for many years to come.
At the moment, the company offers only one color solution for its coating – dark gray tiles with a size of elements of 44.5×33 cm. Structurally, each of them is a painted glass panel with 12 cells, the surface of which is processed by photoetching. The mass of one tile is 6 kg. Such a significant weight is given to the elements by heavy-duty satin tempered glass, which reliably protects photovoltaics from any weather anomalies.
Cost and Reliability of BiSolar Solar Tiles from Roof Tiles Technology
BiSolar ready-made roofing is priced just a quarter of the cost of a standard roof, and is extremely advantageous. As Signor Lazzoni rightly notes, this is much cheaper than the combined costs of a classic roof and the installation of individual photovoltaic panels on top of it.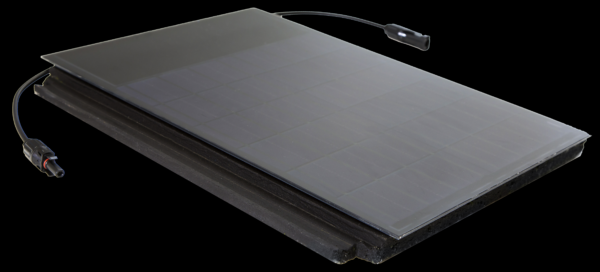 The company began to actively distribute its products from the end of 2019, but the epidemic Covid-19 has significantly slowed the pace of sales. However, throughout the first half of 2020, already ordered kits were regularly manufactured and sent to customers in many countries around the world. "As quarantine is eased around the planet, our products will begin to reach the previously planned level ," the founder of Roof Tiles Technology is sure.
In order to expand production and enter new markets, the company sends massive offers of cooperation to well-known construction companies. Potential partners are offered the exclusive right to use the patented BiSolar technology in the construction of houses. For its part, Roof Tiles Technology Ltd. guarantees an uninterrupted supply of "solar" tiles, as well as comprehensive technical support and training of personnel in the installation rules.
An important advantage of the new tile is its exceptional strength. BiSolar performed better than any standard roofing material in standardized "Wind-Driven-Rain" extreme weather tests.
Production process and design features
According to the data specified in the patent, BiSolar tiles have the following features:
organic compatibility of PV panels with a tiled base in such a way as not to change the structure of the latter and prevent moisture infiltration;
stable color of a certain RGB gamut that does not change over time;
perfect geometry adhesive connection of the photovoltaic array with the tiles, provided by an automatic computerized assembly line;
the presence of securely fixed seals on three sides of each element.
The capacity of the Roof Tiles Technology assembly line is 18 MW of solar tiles annually. For each potential partner, the line will be installed free of charge in production workshops.