Be it a humble abode adorned with a solar panel or an expansive commercial enterprise, these software programs shall guide you towards design and management with utmost efficacy.
Over a hundred programs, both paid and free, exist with the intent of calculating performance, diminishing risks, and amplifying the profitability of solar power plants during the planning stage. We delved into the merits and demerits of the most sought-after among them.
1. SolarGis pvPlanner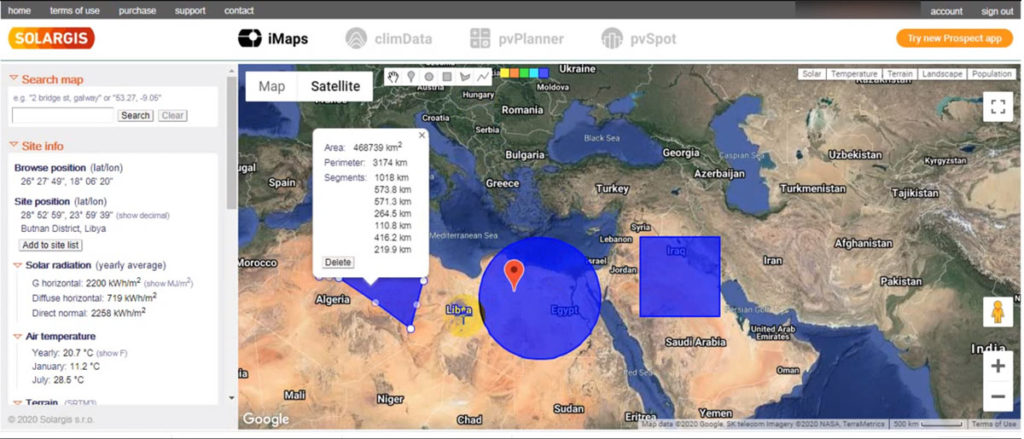 Unveiled in: 2010
Developed by: SolarGis, Slovakia
Price: starter package – complimentary, basic package – from €1800/year, professional package – from €3600/year
Website: http://solargis.com
As though waved by a wand, SolarGis pvPlanner is a simplistic and user-centric web application for devising and refining photovoltaic systems. Its primary virtue, besides its user-friendliness, lies in the precise data it gathers from 19 satellites, which serve as the basis for its calculations. Independent inquiries have revealed that SolarGis's analysis of PV panel performance surpasses the accuracy of its rivals.
With the pvPlanner interface, users can effortlessly locate their desired position on the map, input the PV system's parameters (power, module type, inverter type, installation system, azimuth, tilt angle), and commence the simulation. SolarGis's mathematical models will then ascertain the monthly or annual electricity output, productivity factor, solar radiation parameters, and temperature.
Constraints of this PV scheduler include:
Unsuitable for financial analysis
Does not encompass all global regions
Offers fewer technical calculations than rival applications
Requires internet access for running simulations
2. RETScreen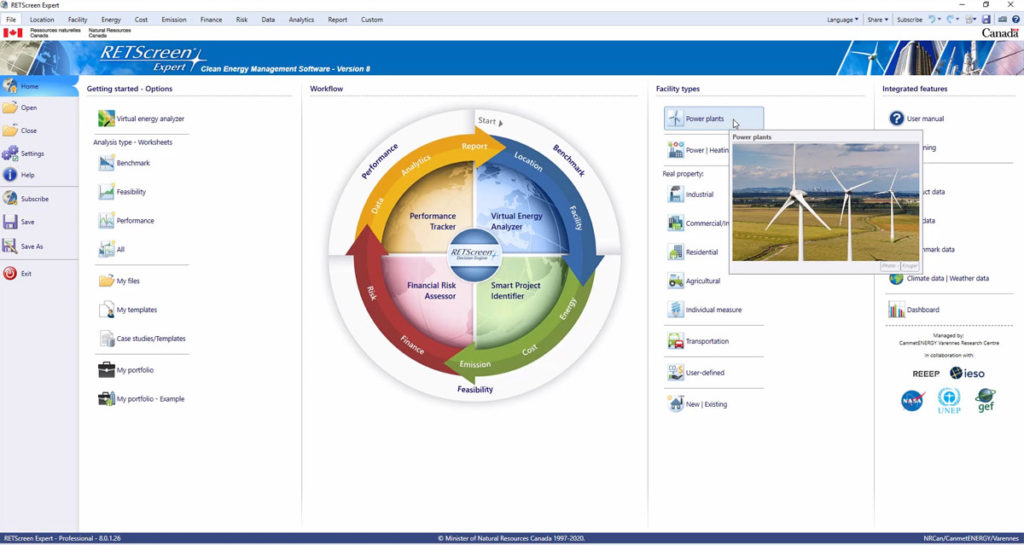 Unveiled in: 1998
Developed by: Government Research Center CanmetENERGY, Canada
Price: Free in preview mode, from $869/year
Website: https://www.nrcan.gc.ca/maps-tools-publications/tools/data-analysis-software-modelling/retscreen/7465
At the behest of the Canadian Government, the RETScreen software package was forged. . Available in 34 languages, including Russian and Ukrainian, it has been adopted by over 500,000 users in nearly every corner of the globe. RETScreen is employed to estimate power generation and calculate costs, emission reductions, financial viability, and risks.
RETScreen incorporates extensive databases, featuring a global climate database from over 6,700 NASA ground stations and satellites. The software also comprises numerous multimedia educational resources.
As RETScreen enables the evaluation of power plant efficiency across various types globally, it is ideal for research activities. Over 1,100 universities and colleges utilize this software, and the data derived from it serves as the foundation for numerous educational materials and scholarly articles.
Limitations of RetScreen include:
Unable to save, print, or transfer files in free mode
Lacks support for high-precision calculations
3. System Advisor Model (SAM)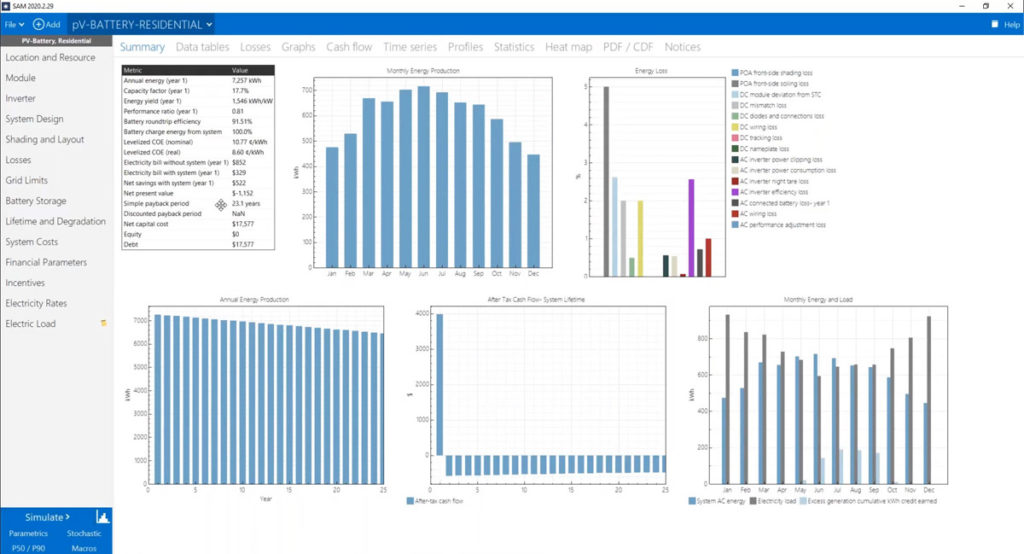 Launched in: 2007
Developed by: National Renewable Energy Laboratory (NREL), USA
Price: Free
Website: https://sam.nrel.gov
SAM is a complex modeling system tailored for professional project developers, engineers, and researchers. It computes the efficiency of not only PV panels but also other clean power plants, such as wind, geothermal, biomass, and tidal energy.
SAM can model the performance of a hybrid power plant and display its daily hourly power generation schedule. Additionally, SAM conducts financial modeling, calculating the cost of electricity generation while taking into account project expenses, lending rates, inflation rates, and the cost of renting land and property.
Limitations of SAM include:
Less intuitive interface compared to competitors
4. PV*SOL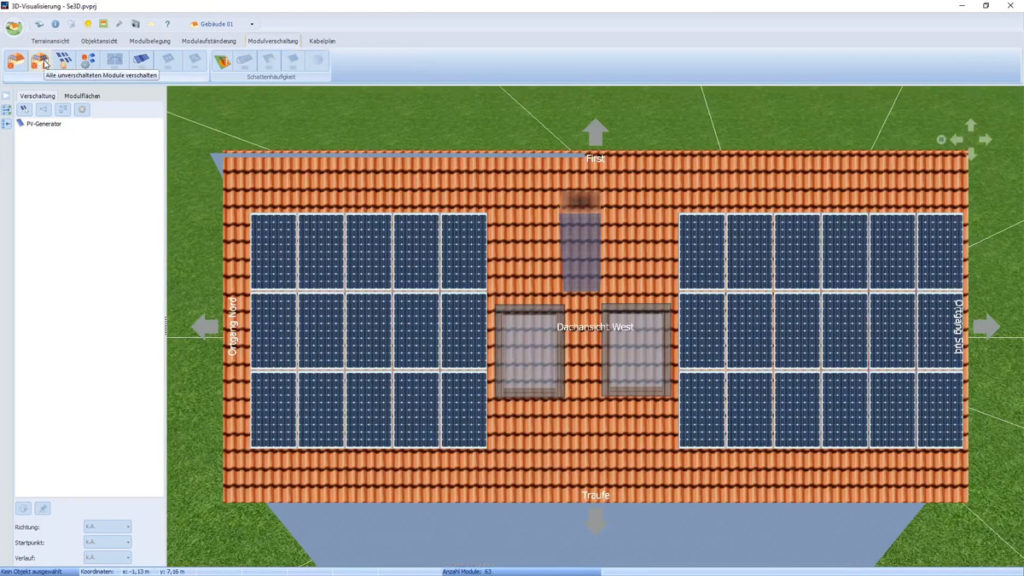 Launched in: 1999
Developed by:
Valentine Energy Software, Germany
Price: 30-day free trial, up to €1295 plus VAT.
Website: https://valentin-software.com/en/products/pvsol-premium/
This unique 3D visualization tool enables accurate terrain recreation, designing all types of modern PV systems on it, and simulating their operation. PV*SOL displays a detailed and realistic 3D view of one to 10,000 photovoltaic panels,allowing for a better understanding of the solar power plant and taking into account the shadows cast by surrounding objects.
PV*SOL is available in four editions, each offering a 30-day free trial. These programs may be the best choice for those who need to find the optimal placement of PV panels on roofs with complex profiles. They can also analyze the financial costs of electricity and heat supply for buildings.
Restrictions:
Performance analysis not as comprehensive as competing programs
Difficulty in constructing 3D models
5. PVsyst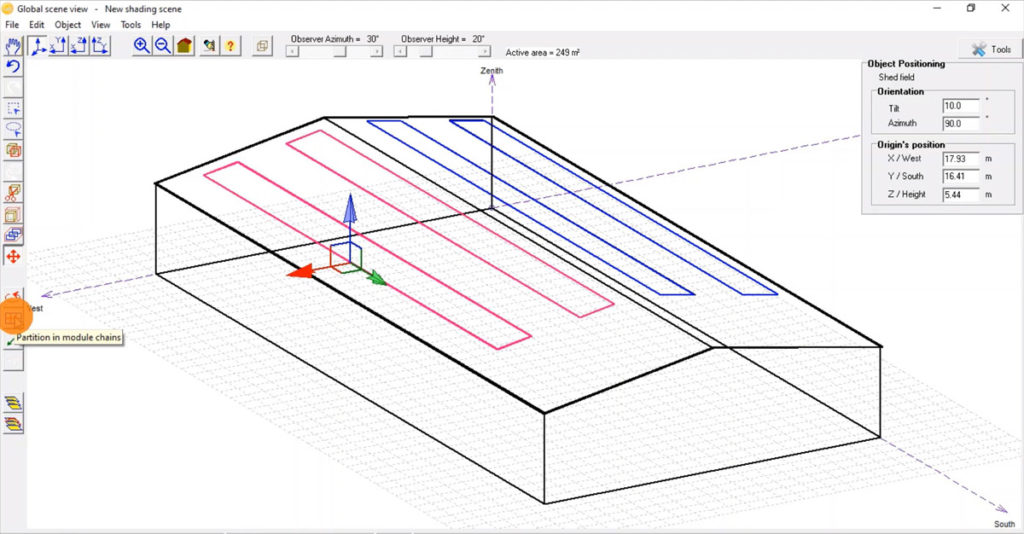 Launched in: 1992
Developed by: Institute of Environmental Sciences at the University of Geneva, Switzerland
Price: 30-day free trial, $682 per year
Website: https://www.pvsyst.com
The PVsyst software package is designed for architects, design engineers, and researchers. Additionally, this software is useful for gaining knowledge about the operation of connected photovoltaic systems. It contains an extensive library of data on various photovoltaic systems and devices, as well as a detailed English-language guide to designing solar power plants.
PVsyst offers 3D modeling tools for calculating shadow losses and employs numerous different simulations of system processes. It enables users to accurately identify the negative factors that result in electricity and heat losses, as well as to find ways to minimize these losses.
Restrictions:
Only models PV systems and cannot analyze hybrid power plants
Any one of the five tools mentioned above will assist you in simulating the operation of a solar power plant and evaluating its efficiency. Each has its own strengths. The SolarGis pvPlanner web service may be the best choice for those who do not wish to spend time and effort installing software and learning overly complicated settings. PV*SOL might be the most suitable solution for those who need to create an impressive 3D model to present their project to investors. The System Advisor Model is appropriate for developing complex hybrid systems with multiple renewable energy sources. RETScreen is certain to appeal to researchers who need to assess the efficiency of clean energy generation anywhere in the world. And PVsyst will likely be attractive to those who want to enhance their knowledge of solar panels.
In light of the fact that each of the quintet of photovoltaic system modeling software options we've explored offers a minimum of a 30-day free trial, there is no obstacle preventing you from experimenting with all five and ultimately selecting the one that aligns most fittingly with your needs.